Congratulations! You now know everything you need to know to develop a fully functioning website on behalf of a customer.
Now you will have the opportunity to develop one of from scratch based on the brief obtained in the previous topic.
Most people who build websites use software which automates a lot of the programming and design work. For example, WordPress is a free and open source blogging tool and a content management system (CMS) based on PHP and MySQL. There are other, similar website creation tools too, like Joomla and Drupal which makes managing content on pages, blogs and databases much easier.
To complete this course quickly and simply, we are going to use WordPress. This platform is one of the most popular web design platforms available because it allows users to simply design their own website to their specification while taking care of a lot of the complicated parts in the background. Other simple and free alternatives to this include Moonfruit, Wix and Weebly.
Please go to www.wordpress.com now and register your free account before continuing with the Lesson.
You will then be asked to follow some simple steps in designing your website. For this section, you will probably find our WordPress training course helpful if you've never used WordPress before. Choose the theme you would like, edit the title, layout and add two or three pages to match the brief criteria. Finally, you just need to add some text content and pictures to complete your site.
Once you have made a website to match the brief, take some screenshots of each page and store them as evidence for your assessor. Make some comments next to the screenshots to explain what you're doing and how you did it.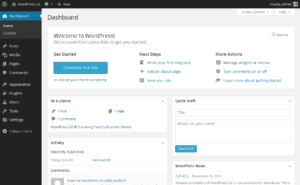 Finally, you will need to test your website to make sure that it matches the customer's requirements. Please download the checklist and make sure that your site conforms to each item in it.
---

Once you have finished, submit the checklist and link to your website in Google Classrooms, or hand it to your assessor for feedback.